Empower your returning workforce
Posted On September 7, 2021
---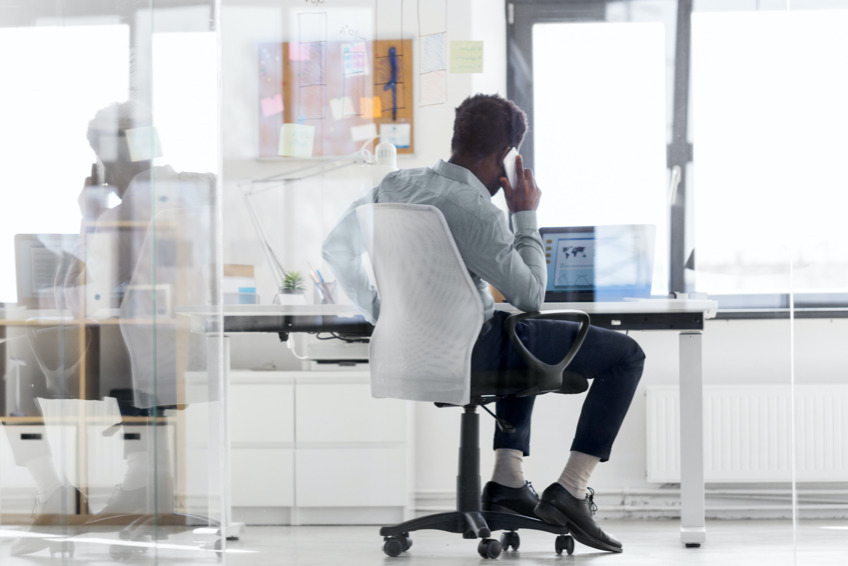 As pandemic restrictions ease, 57 percent of companies plan on phasing employees back to the office.* As businesses contemplate reopening, they have to plan not just for the health and safety of their employees,  but also for providing a flexible, reliable network to support a new hybrid way of working—without straining the budget. Are you ready for your workers' return and for future changes in your WAN requirements?
Support your returning workforce
During the last year or so of working from home, some business leaders severely reduced their companies' bandwidth or shut down their networks completely. Additionally, most companies adopted cloud collaboration tools designed for remote work. As the workforce returns to their desks and conference rooms, they'll expect network performance that runs their voice and video collaboration apps smoothly. No matter the status of your company WAN, you'll face a changed world. Maybe your IT team used the past year to move to the cloud, changing where you store or host the business applications employees rely on. Cloud solutions make it easier for employees to work in the office or remotely—an option that is here to stay.
A versatile, reliable WAN for a new world of business
Lumen® Hyper WAN® has features to help you meet these and whatever other challenges might arise. Hyper WAN provides dedicated, high-performance public and private connectivity for one flat monthly service rate through a single port. Set it up using the self-service portal and choose a custom mix of dedicated internet and private IP VPN—with symmetrical bandwidth speeds up to 3 Gbps—for each of your locations. With Hyper WAN, you can maximize your network.
Performance
Make sure workers have the bandwidth they need to use VoIP apps, video conferencing, file-sharing tools, cloud apps and data-backup tools without a hitch, so their productivity is uninterrupted. You get the performance guarantees of a world-class enterprise networking solution, including 99.99 percent network availability and 99.95 percent packet delivery SLAs.
Security
Changing your workloads or storage requirements means you need updated security for sensitive data, like the intellectual property (IP) that distinguishes your brand in the marketplace. With Hyper WAN, you get dedicated internet, which is bandwidth that isn't shared with other businesses. You can also enable IP VPN at your site for private transfer of sensitive data. Optional firewalls are available to enable secure internet access directly from your private network.
Flexibility
Make sure you're ready for whatever unexpected changes might come next. With Hyper WAN, you can easily add or change network types, providing dedicated internet, IP VPN or both for a hybrid option. Change bandwidth speeds according to how many people will be in the office or at home at any given time, or quickly migrate workloads to the cloud from traditional data centers without slowing network performance. With Hyper WAN Dynamic Connections IP VPN, you can quickly set up private connections to top cloud providers on a pay-per-use basis.
Ease of management
Use Hyper WAN to automate tasks like network provisioning and service delivery of new sites. Need to increase or decrease bandwidth speeds or add a new private network with secure internet firewall protection? Make it happen in near real time using  the Lumen Control Center portal, where you can design, price, purchase and configure your custom mix of dedicated internet and IP VPN.
Find out more about how you can support your changing network needs, now and in the future, by visiting the Hyper WAN resource hub.
* LaSalle Network, Office Re-Entry Index, Volume II, 2021
This content is provided for informational purposes only and may require additional research and substantiation by the end user. In addition, the information is provided "as is" without any warranty or condition of any kind, either express or implied. Use of this information is at the end user's own risk. Lumen does not warrant that the information will meet the end user's requirements or that the implementation or usage of this information will result in the desired outcome of the end user. This document represents Lumen's products and offerings as of the date of issue. Services not available everywhere. Business customers only. Lumen may change or cancel products and services or substitute similar products and services at its sole discretion without notice. ©2021 Lumen Technologies. All Rights Reserved.
---
Trending Now
You may also like