Learn How The Fastest, Most Secure Platform For Next-Gen Apps And Data Delivers Winning Solutions For Your Business
---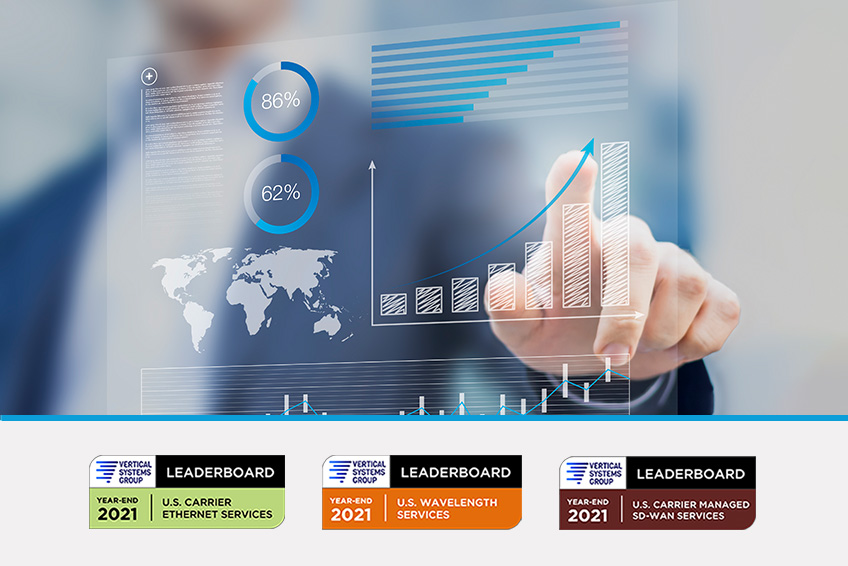 Introduction
With the #1 peered global network1, Lumen delivers high-performance solutions to help you give your business an extra edge. But don't just take our word for it—read on to discover how and why the Lumen Platform secured a top-five spot across three 2021 VSG LEADERBOARDs.
Doing Amazing Things Across The Board
Vertical Systems Group, or VSG, provides in-depth analysis and defensible statistics for enterprise connectivity services and solutions. Their mid-year and year-end VSG LEADERBOARDs rank the top service providers in the U.S. and globally in several categories based on market share results. Not to mention, these leaderboards serve as some of the industry's top benchmarks for measuring market leadership.
For year-end 2021, the Lumen Platform claimed three top-five placements on VSG LEADERBOARDs:
LEADERBOARD – U.S. Wavelengths Services
Lumen ranked #1 in the U.S. Wavelength Services LEADERBOARD2 —an exciting achievement for Lumen Wavelength solutions, as this category is the inaugural LEADERBOARD for Wavelength services.
The rankings are based on installed wholesale and retail U.S. Wavelength circuits—key components for modern enterprises. According to Rick Malone, Principal at VSG, enterprises are now using circuits for data center interconnects, cloud connections and many apps that demand high bandwidth.
LEADERBOARD – U.S. Carrier Ethernet Services
Lumen also ranked #1 on the U.S. Carrier Ethernet Services LEADERBOARD3 , leading this board now for five years. Lumen Ethernet solutions enable the foundational service of secure, reliable linkage between data centers, clouds, offices, VPNs and LANs with flexible and dedicated connections.
"Lumen continues to maintain its presence in the Ethernet space as a leading provider, holding the top U.S. Ethernet share position continuously since 2017," noted Malone.
LEADERBOARD – U.S. Carrier Managed SD-WAN Services
Lumen secured the #5 ranking on the year-end 2021 U.S. Carrier Managed SD-WAN Services LEADERBOARD4 , based on installed and billable U.S. managed SD-WAN sites. Lumen SD-WAN solutions cater to a rapidly expanding SD-WAN market that emerged from the pandemic with solid growth in new site installations, driven by accelerated network transformations and more flexible solutions for customers.
"Not only do these rankings reinforce our commitment to providing the industry's best networking services," said Miriana Martinova, Lumen VP of Core Network Solutions, "but also our ability to provide the products and services our customers want and need to be successful."
Lumen is one of only two service providers to place in all three year-end 2021 VSG LEADERBOARDs.
Why The Lumen Network?
Lumen's capability to deliver award-winning networking solutions for your business comes from a series of advantages unique to our platform, enabling the efficient, reliable networking needed to meet the demands of next-gen apps. Here are some of our recognitions that we believe allow you to leverage the high-speed, low-latency performance you need to help your business to stand out from the competition:
Named a leader in 2022 Gartner® Magic Quadrant™ for Network Services
In 2022, Lumen recognized as a Leader for Network Services in the renowned Gartner Magic Quadrant, marking our second year in a row as a Leader in this category.
#1 in Intra-North America Network Use Case
Gartner ranked Lumen #1 in Intra-North America Network Use Case in their 2022 Critical Capabilities for Network Services.
Frost & Sullivan Market Leadership Award for United States Business Carrier Ethernet Services
Lumen received the Market Leadership Award for United States Business Carrier Ethernet Services in 2021 from Frost & Sullivan.
One of the largest public ISPs in the world
Lumen offers expansive global reach, serving customers in more than 60 countries, enabling access to 2,200+ public and private data centers globally, 150,000+ enterprise locations, and 550+ Tbps of total global backbone capacity.
#1 peered global network1
With 6,300+ unique Autonomous System (AS) interconnects globally1, you can reach more of the global internet directly from our network.
Largest U.S.-based Ethernet connectivity provider5
Lumen enables your cloud journey with 91 public cloud on-ramps to all major cloud providers, connectivity to 2,200+ public and private data centers globally and 150,000+ on-net buildings.
Lumen internet peering excellence
Lumen leverages localized private peering with private interconnects, plus traditional peering, to maximize performance—65% of the internet traffic that originates on our network terminates on our network.
Lumen Network transformed with 100G and 400G boosts
Over the past year, the Lumen Network underwent an overhaul to boost our Layer 1 wavelength services with an update to 400G capabilities and our Layer 2 metro products—like Ethernet—to 100G.
With our stand-out advantages and the award-winning network solutions, the Lumen Network continues to prove its capability and provide the reliable, low-latency, high-performance adaptive networking services you need to drive your business.
1Center for Applied Internet Data Analysis, AS Rank, December 2022.
2Vertical Systems Group, Year-End 2021 U.S. Wavelength Services LEADERBOARD, Feb. 24, 2022.
3Vertical Systems Group, Year-End 2021 U.S. Carrier Ethernet Services LEADERBOARD, April 27, 2022.
4Vertical Systems Group, Year-End 2021 U.S. Carrier Managed SD-WAN Services LEADERBOARD, March 17, 2022.
5Vertical Systems Group, Mid-2021 U.S. Carrier Ethernet Services LEADERBOARD, Sept. 2, 2021.
Gartner does not endorse any vendor, product or service depicted in its research publications and does not advise technology users to select only those vendors with the highest ratings or other designation. Gartner research publications consist of the opinions of Gartner's research organization and should not be construed as statements of fact. Gartner disclaims all warranties, expressed or implied, with respect to this research, including any warranties of merchantability or fitness for a particular purpose. Gartner and Magic Quadrant are registered trademarks and service mark of Gartner, Inc. and/or its affiliates in the U.S. and internationally and are used herein with permission. All Rights Reserved.
This content is provided for informational purposes only and may require additional research and substantiation by the end user. In addition, the information is provided "as is" without any warranty or condition of any kind, either express or implied. Use of this information is at the end user's own risk. Lumen does not warrant that the information will meet the end user's requirements or that the implementation or usage of this information will result in the desired outcome of the end user. All third-party company and product or service names referenced in this article are for identification purposes only and do not imply endorsement or affiliation with Lumen. This document represents Lumen products and offerings as of the date of issue.
---
Trending Now
You may also like