The 2 Unwritten Rules of Customer Experience
---
Marketing newsflash
Mining insights from data is a top goal for leading marketers. Says who? The CMO Survey, a biannual survey directed by Christine Moorman, professor at Duke University's Fuqua School of Business. There's a lot of great information in the survey, but let's focus on the section that asks what is perhaps the most critical question in marketing: What do customers want?
Turns out, the list of customers' top priorities is neither long or complex. Here's what ranked as the top five:
Superior quality products
Excellent service
Trusting relationship
A low price
Superior innovation
Customers' Top Priorities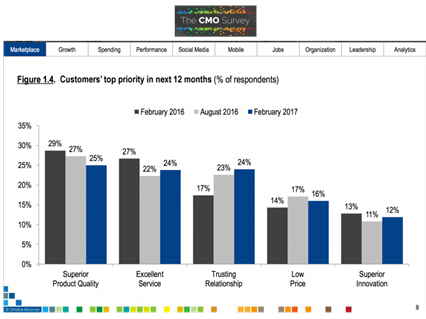 The bottom-line? Make great products and keep doing it better than everyone else. Ensure dealing with you is consistently a good experience. Make sure I know I can rely on you to be trustworthy in all your interactions. Strive to make your industry—and mine—progress and remain competitive.  Oh…and make the price right.
But what do customers REALLY want?
Anti-newsflash
There's nothing new in this list. These expectations/requests are the basic buckets of a standard business strategy. So why does an organization like the American Marketing Association bother to ask the questions?
Because businesses forget that this entire list matters. Need proof? Look no further than the latest "viral" customer experience nightmare. Take your pick – you can find an example just about every day. Just as dismaying as the frequency of these incidents is the fact these stories aren't limited to just one organization or even a single industry, but cross virtually every type of business.
To be fair, the majority of companies involved accept responsibility and take actions to change for the better. We applaud their accountability. But the crux of the matter is this: over and over, examination of these events reveal the employees involved didn't respect their customers as human beings. In each case, employees were more focused on completing corporate tasks than on protecting the basic needs of their customers.
There's a lesson in this for all of us. It's a good time for everyone to assess the written and unwritten guidance we demonstrate and expect employees to embrace. How? It starts with grounding our culture and values in what customers really want. Hint…it's not just low prices.
The unwritten rules
Wait – I started this blog talking about quality, service and price. Now I'm talking about treating customers as humans. What gives?
Well, market growth and advantage come from earning the right to serve customers. And to earn the right to serve customers, we need to abide by two unwritten rules:
1) Recognize and always bear in mind that we are dealing with actual people.
2) Our customers and potential customers expect us to behave like people, too.
Let me add, they expect us to be respectful people.
So, based on these two critical unwritten rules, here's what the Customer's Top Priorities list  actually looks like:
Treat me as a human worthy of respect.
Do business and act like you're a human worthy of respect.
Superior quality products
Excellent service
Trusting relationship
A low price
Superior innovation
Customer experience starts with seeing customers as people. I'm not just customer 210843. I'm Christine, flying off to see my mom or visit my customers. I have goals that I'm trying to achieve and I'm relying on—not to mention paying for—your support.
What next?
You probably think you're fine and already focus on the customer. And hopefully you're right. But how well does that mindset manifest and cascade through your company?
If you don't have a Voice-of-the-Customer (VOC) program to listen directly to your customers — you should. VOC programs can pinpoint problems that can be taken care of immediately. They can also help provide more nuanced insights. For instance, whether customers consider you a trusted provider, via likelihood to recommend queries. Verbatim comments are also incredibly powerful. Read what they say and you'll see problem and possible solution patterns emerge.
Invest in programs that reinforce putting a human face on your customers. Train frontline employees to see customers as the people they are.
Also, see employees as the people they are, and work to remove barriers, improve processes and empower them as they serve customers.
The reality is, no one is perfect. But if we fall back on basic principles of offering respect and being accountable, even when the unexpected happens, we're on the road to building trust, a better business and great success.
Check out more advice on how to provide the perfect customer experience.
Read More
---
Trending Now
You may also like