3 reasons why small business IT solutions drive competitive advantage
Posted On December 16, 2021
---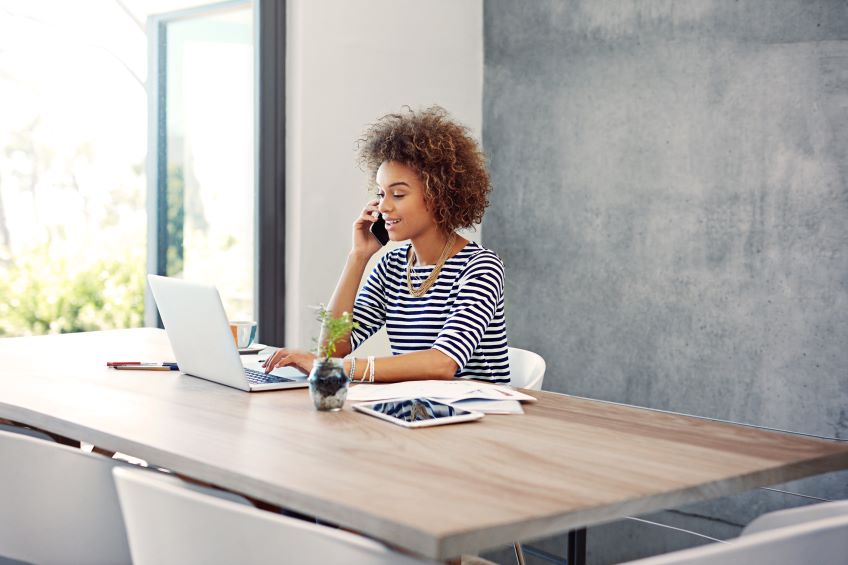 As a business leader or manager, how do you think about the role of IT in your business? You already understand its critical importance in maintaining day-to-day operations. And when you evaluate IT solutions, you're probably focused on maximizing efficiencies, controlling costs, and making it all work with a small team, as you should be.
But what about competitive advantage? Because that's the new frontier for small business IT solutions. Digitally savvy businesses, no matter their size, are now adopting technology that was once available only to large enterprises. They're leveraging it to facilitate new revenue streams and lines of business, new marketing tactics and far better customer experiences.
It's time to shift your mindset. Your IT network isn't just another overhead cost. It's your platform for growth and pragmatic innovation—your secret weapon to maximize competitive advantage.
3 factors driving the shift in small business IT solutions
"Business as usual" has undergone fundamental changes over the past several years. The COVID-19 pandemic only accelerated the technology shifts that were already underway. Here are three factors that have pushed businesses to leverage their IT networks in new ways that increase their competitive advantage:
Brick-and-mortar businesses needed new ways to deliver products and services during the pandemic, as well as new revenue streams to stay afloat. E-commerce saw explosive growth and with it a slew of related digital services, from curbside pickup to contactless engagement.
A QuickBooks survey of small business owners found that 72 percent of businesses now operate online in some way—often a mix of online and brick-and-mortar operations—and 50 percent of surveyed companies are conducting more business online since 2020.
2. Customers expect Amazon-like experiences
Buyers now expect superlative digital experiences and shopping conveniences from any business, small or large. Thanks to the Amazon Effect, customer loyalty hinges on perks like fast delivery, the ability to buy online and pick up in the store (BOPIS) and responsive customer service. Your IT network is the foundation for these enhanced services.
3. IT costs have decreased, making innovation affordable
Nearly every business now uses cloud computing technology in some fashion. A shift to the cloud—away from expensive and complex on-premises IT hardware—can dramatically reduce IT costs because organizations no longer have to purchase expensive and complex on-premises IT hardware. Instead, they have the flexibility to purchase only what they need—managed in the cloud—and can scale up or down with ease.
An IT network built on a cloud platform also gives businesses access to technologies that were once too expensive or cumbersome to set up: Internet of Things (IoT) sensors, smart cameras and an ecosystem of inexpensive applications to enable digital marketing, user verification and rewards programs.
IT-savvy businesses are outcompeting slower organizations
Compelling numbers back up the assertion that IT innovation increases competitive advantage:
In one study, digitally advanced businesses experienced four times more revenue growth over the previous year, compared to businesses with low levels of digital engagement.
In another study, growing businesses were 38 percent more likely to state that technology "drives the growth of my customer base" than stagnant or declining businesses.
25 percent of surveyed businesses launched new initiatives that were not possible before deploying a cloud-based network platform.
Here's the challenge: Businesses are often unaware of the IT possibilities available to them. Lumen team members have consulted with thousands of business leaders, and too often encounter a perception that IT innovation is too expensive and out of reach, or simply not tailored for smaller businesses. There's also a common mindset that says "we've always done it this way," and it works fine, so why change it?
Why? Because business as usual has evolved dramatically. Maintaining and increasing competitive advantage requires a new mindset and an understanding that your IT platform is the foundation for growth and success.
Ready to learn more about the specific IT strategies and technologies that can take your business to the next level? Download the Lumen eBook, 6 IT strategies to give your business a competitive advantage.
This content is provided for informational purposes only and may require additional research and substantiation by the end user. In addition, the information is provided "as is" without any warranty or condition of any kind, either express or implied. Use of this information is at the end user's own risk. Lumen does not warrant that the information will meet the end user's requirements or that the implementation or usage of this information will result in the desired outcome of the end user. All third-party company and product or service names referenced in this article are for identification purposes only and do not imply endorsement or affiliation with Lumen. This document represents Lumen's products and offerings as of the date of issue. Services not available everywhere. Business customers only. Lumen may change or cancel products and services or substitute similar products and services at its sole discretion without notice. ©2021 Lumen Technologies. All Rights Reserved.
---
Trending Now