A city of champions looks to the future
Posted On September 7, 2021
---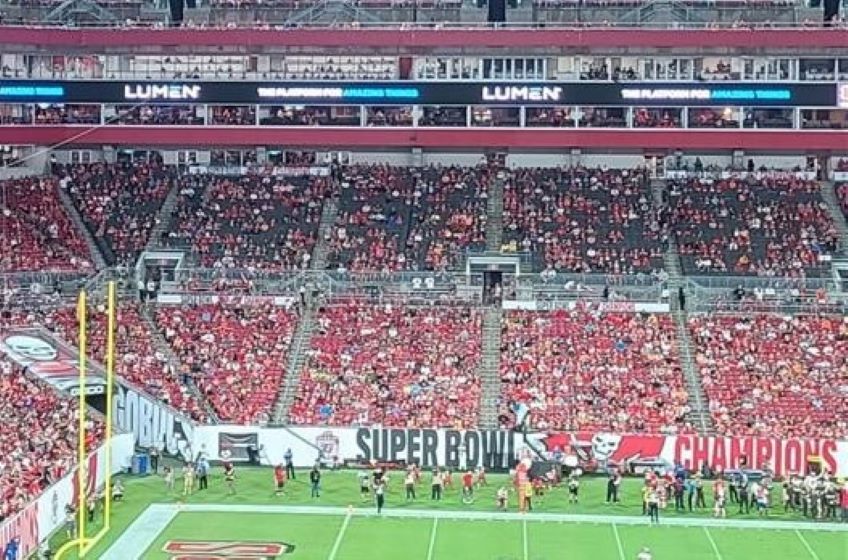 As any sports organization will tell you, winning a championship is hard, but defending it, may be even more of a challenge. Popular opinions stress that winning a championship both reduces your own motivation and increases everyone else's to take you down. In the history of the NFL, only 7 franchises have repeated. In MLB, it's been over 20 years since a repeat. And the NHL, only 8 teams (including last year's Tampa Bay Lightning) have accomplished the repeat feat since the NHL became the sole competitor for the Cup in 1926. To sum it up, it's exceptionally hard.  It takes focus and determination to win one championship, but it takes determination, grit, and the courage to make necessary adjustments and innovations to an already winning culture to do it again.
This is certainly the mindset of the defending football champion the Tampa Bay Buccaneers as they prepare to kick off a new season. Earlier this year, we highlighted the technology that went into preparing Raymond James Stadium to deliver a winning fan experience for the Big Game and celebrate the Bucs' victory. Since then, the team was recently honored at the White House for that win. During the President's speech at the event, he dubbed Tampa Bay as the "City of Champions." I couldn't agree more. Our outstanding local sports teams have created an abundance of visibility for our great city and instilled us with a respectable brand.  But this kind of success reaches beyond sports. The fact is, in business, as in sports, you can achieve extraordinary things if you have the right team and do not rest on your laurels.
A lot has changed in the past year. As the marketplace changed around them, companies learned to pivot on a dime and embrace new ways of doing business. These shifts accelerated trends toward adopting new technologies. The network, the cloud, and the applications that tie it all together have emerged as real game-changers in the marketplace. Security, always a critical issue, has taken on added importance as the number of devices and access points continues to expand.
Champions keep on winning
What do the repeat champions and great organizations have in common? They take necessary risks, they reorganize, reinvent and innovate to be better than best. Since that great day on February 7, the Buccaneers have made over 60 transactions including signing QB Tom Brady to a contract extension. They're going to be better than last year!
At Lumen, we've helped our customers meet challenges of the last year-and-a-half and frankly, get better. It's time to enhance our focus toward the future. As Florida returns to a new normal, we are poised to play a pivotal role in our rebound and the state's future growth. Domestic tourism is on the rise and Florida is one of the top destination spots as people flock to our beaches, attractions, parks, vacation clubs, and cruise lines.
As businesses reopen or adjust to a hybrid environment, they're moving forward from a different technology baseline than before. In the last 17 months, a mad scramble to help people work from home or expand e-commerce capability on the fly resulted in a new foundation to build on. This brings its own, different challenges. As we still face some uncertainty about the future, flexibility must be a part of our strategy. We need to be prepared to face these different challenges, and that calls for new game plans.
Expanding the playbook
Lumen is prepared to meet the future head on with plans to expand our network infrastructure in Florida. We continue investing in local fiber, but our belief in Florida goes way beyond that. Our investments here bring the power and flexibility of edge cloud to the Florida market. We're partnering with technology leaders like SAP, VMware, and Microsoft to bring powerful application performance to the edge, putting our client's software stack in numerous facilities rather than a few. Our edge capabilities will allow you to achieve exceptional performance (5ms or less of latency in 95% of the country by the end of the year), scalability, and security with an edge compute platform built for modern teams. It's a game changer as enterprises look to move forward in a changed world.
Tampa Bay is showing that champions persevere and continue to innovate. It's a new season with new challenges. That's true for not only the Tampa Bay Buccaneers, but for every Florida business. Every game has lots of moving parts, and it takes an integrated platform to bring it all together.
Do you want to be better than best? Are you ready for kickoff? Let's talk.
This content is provided for informational purposes only and may require additional research and substantiation by the end user. In addition, the information is provided "as is" without any warranty or condition of any kind, either express or implied. Use of this information is at the end user's own risk. Lumen does not warrant that the information will meet the end user's requirements or that the implementation or usage of this information will result in the desired outcome of the end user. All third-party company and product or service names referenced in this article are for identification purposes only and do not imply endorsement or affiliation with Lumen. This document represents Lumen's products and offerings as of the date of issue. Services not available everywhere. Business customers only. Lumen may change or cancel products and services or substitute similar products and services at its sole discretion without notice. ©2021 Lumen Technologies. All Rights Reserved.
---
Trending Now