Large-Scale Vaccine Rollout: The Latest Endurance Test for Online Healthcare Providers
---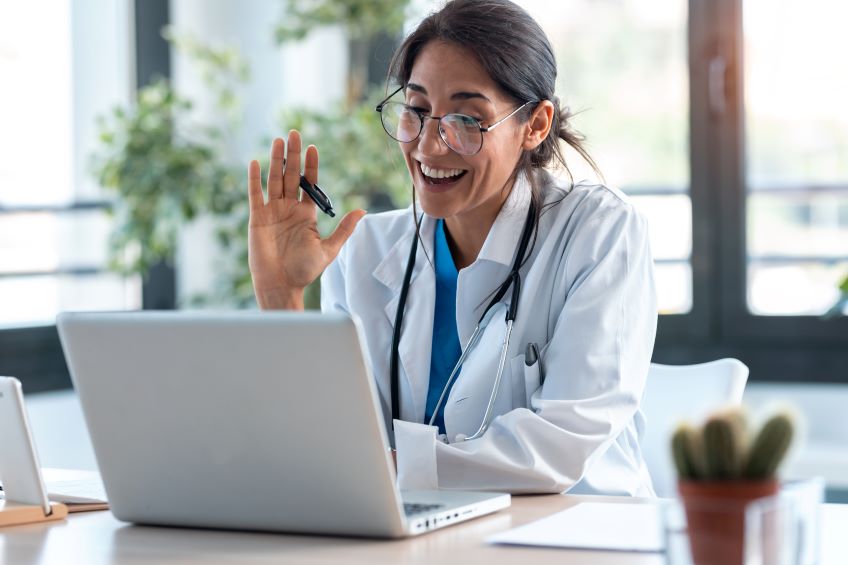 Over the past year, the healthcare industry faced challenges that few would have imagined. From personnel to logistics to protective equipment, the pandemic has put the industry's resilience to the test.
Many providers seized this opportunity to rethink their business models, turning to solutions like telehealth as an alternative for in-person consultations and digital appointment sign-ins to limit physical contact between patients. With some providers reporting increases of 900%[1] in their telehealth services, the efforts of those quick to adapt to this new reality have paid off.
The COVID-19 vaccination campaign is set to accelerate in the coming months, and with it, tens of millions of people are eager to secure their place in line. Clinics, hospitals and health departments are now tasked with the unprecedented logistical and technological feat of immunizing the general public as quickly and equitably as possible, while processing and securing vast amounts of health data to track the progress and effectiveness of the vaccine rollout.
The challenge is multifaceted. Providers must rapidly scale online patient interfaces to traffic volumes that would cripple most websites. They must collect, process and reconcile data from a variety of distributed and centralized sources: patient inputs, health records, provider appointment availability, and vaccine inventory databases. At the same time, they must maintain rigorous data protection in the face of mounting threats and strict legislation.
Scaling to the challenge
To withstand the influx of users and avoid major service outages, healthcare providers should leverage the storage and computing power offered by hybrid cloud and edge-based infrastructures.
Unfortunately, many local hospitals and health departments lack the time, resources and technical expertise required to stand up an optimized appointment booking site on such a tight schedule. Many are also plagued with monolithic infrastructures that were never meant to scale to such a situation.
Those who act fast can still leverage the hosting, distributed caching and flexible edge computing solutions that will allow them to quickly deploy the capacity their interfaces need. Large infrastructure providers also tend to be well-versed in the regulatory environment, and can propose solutions that are HIPAA-compliant with respect to the transfer and securing of data.
Ensuring fairness and a seamless patient experience
Beyond being able to handle the surge of visitors landing on their website, providers must be able to determine who is eligible for immunization, which patients should have priority, and how much inventory is available at each site.
Even if the provider has built a robust user interface, online booking systems are vulnerable to software failures elsewhere in the supply chain, particularly when they must interface with third parties such as pharmacies, insurance companies and inventory databases.
When issues arise in this digital information chain, teams must be able to quickly pinpoint where they are coming from and how to properly troubleshoot them. Flexible development frameworks and real-time monitoring can help engineers adapt their applications to rapidly changing conditions and more easily manage links to third-party services. Modern toolsets today offer the granular control they need to quickly deploy solutions such as virtual waiting rooms or A/B test new features before large-scale rollout.
Securing the digital experience
Finally, the vast amounts of sensitive patient data generated during the immunization campaign is a prime target for malicious actors.
Cyberthreats have plagued the vaccine rollout from the start, in the form of phishing attacks, fraudulent advertisements and attacks on appointment booking sites. This threat is compounded when hackers have multiple entry points into a website through third-party APIs and external services interfacing with user platforms.
Unfortunately, many legacy security solutions in place today struggle to adapt to increasingly sophisticated threats, using outdated and oversimplified methods and failing to provide the right level of visibility that teams need to protect their organizations. Modern web application firewall (WAF), bot management and DDoS protection are absolutely key to avoiding breaches of websites – and even testing facilities.
Technology at work for a brighter future
The large-scale COVID-19 vaccine rollout is a feat of modern medicine, technology and logistics. As healthcare providers overcome the challenges to connect patients to critical care, Lumen stands ready to help those who are working to save lives and protect populations.
[1] https://www.washingtonpost.com/news/powerpost/paloma/the-health-202/2020/04/08/the-health-202-coronavirus-means-americans-are-finally-embracing-virtual-health-care/5e8cf38d602ff10d49adf807/
This content is provided for informational purposes only and may require additional research and substantiation by the end user. In addition, the information is provided "as is" without any warranty or condition of any kind, either express or implied. Use of this information is at the end user's own risk. Lumen does not warrant that the information will meet the end user's requirements or that the implementation or usage of this information will result in the desired outcome of the end user. This document represents Lumen's products and offerings as of the date of issue. Services not available everywhere. Business customers only. Lumen may change or cancel products and services or substitute similar products and services at its sole discretion without notice. ©2021 Lumen Technologies. All Rights Reserved.
---
Trending Now
You may also like