Lumen and Microsoft Teams Keep Your Workforce In Sync
---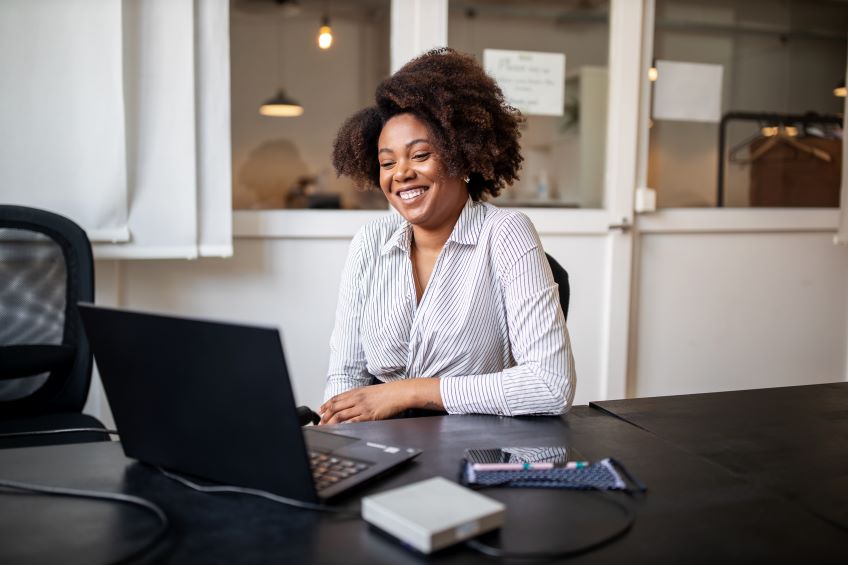 Global events in 2020 caused the remote workforce to undergo rapid changes, with long-term effects. Rather than relying mostly on standard business apps like email and calling, businesses and government agencies moved to a much more collaborative model.
They began to rely heavily on video conferencing and mobile applications to support the remote workforce, and it's looking like those changes are going to remain for the foreseeable future, whether employees work in a company location, from home or elsewhere. According to a forecast by Kate Lister, president of Global Workplace Analytics, an estimated 25 to 30% of the U.S. workforce will work from home multiple days a week by the end of 2021.
In a sea of continual change, applications have become a critical element, especially collaboration suites. For those of us using Microsoft Teams, it's easy to see how Microsoft emerged as the market leader for team collaboration and virtual meetings in 2020, with a market share above 50%.1 The platform's apps – chat, meetings, calling and collaboration – work seamlessly and keep workers and customers in touch and productive.
How Lumen Helps to Support Microsoft Teams
Your organization's IT department may have the best and the brightest employees, but time is always a factor. Offloading management of Teams to Lumen reduces the burden of managing critical applications in-house. You avoid triage-mode troubleshooting, Teams is up to date and we monitor your UC&C service availability with 24/7 support, allowing your IT resources to focus on your core business.
Lumen enhances Microsoft Teams by enabling our Lumen calling and/or the customer's non-Lumen provider by routing voice traffic through our cloud managed Session Border Controller through the Microsoft cloud. Integrated applications like call recording, contact center, and phone receptionist console features to make Teams more than just a UC&C solution.
Lumen customers running Microsoft Teams also benefit from the Lumen network with built-in security, Direct Routing and analytics.
The Lumen network is one of the largest, most connected internet networks in the world, offering SIP and ISDN services. The network continually evolves to incorporate new, more efficient technology and refines its processes to deliver low latency service. That's really important to application delivery. So are secure connections. Security is embedded in the Lumen network, ensuring that communications between your employees and customers are reliably protected.
Direct Routing is a fully managed service that's ideal for companies that want to use Microsoft Teams calling but still want to control which external provider they use for voice. Essentially, Direct Routing enables you to connect to the Public Switched Telephone Network (PSTN) outside of Teams using cloud-based Session Border Controller (SBC) technology, which is similar to a gateway router used to connect to the internet.
With Direct Routing, Lumen customers can manage the connection between their SIP trunk or PSTN solution and their Microsoft Teams cloud. If it's more advantageous for you to use the Lumen network, you can bring your own SIP and Lumen will also route customer's other voice providers to your Teams cloud and continually manage the voice numbers in the cloud SBC. The cost of Microsoft Teams Direct Routing (via Lumen) is usually less expensive than Teams call plans, plus you get the benefits of a managed service.
One of the cruxes of application delivery today is having real-time visibility into the network environment with readymade dashboards regardless of where the end-users are located and access to reporting tools that help you quickly understand performance issues. Unify Square PowerSuite™ is an advanced reporting and analytics application that monitors and analyzes, among other services, Teams user and performance data. It uses machine learning and AI, as well as predictive analytics, to comb through all kinds of log data to give you a comprehensive look at how your applications – like Teams – are performing. Telephone number management is also made much easier with PowerSuite. The service acts like a portal for number management of your entire phone number inventory, regardless of carrier. You can allocate numbers by site, user or circuit, handle number reservations and tombstoning, and much more.
What's In It for You?
Your organization's UC&C investment in licenses and support headcount is too costly to not have the dashboards to optimize it for your end-users and minimize the support costs dedicated to your UC&C platform. The Lumen network is reliable. Unlike software and over-the-top providers, Lumen operates an IP backbone designed to deliver real-time cloud communication services. And as mentioned previously, we continually upgrade the network to help ensure customer satisfaction.
There are also ROI and TCO gains to consider. An independent research study conducted by Nemertes on the behalf of Lumen found companies that consolidated UC&C apps with Lumen saw an average 28% savings in operational costs. And the ability to keep your own phone numbers makes the transition to Lumen faster and easier.
Plus, by switching to Lumen, you get a single provider and a single point of contact for the entire package – trunking, Teams and all services. One provider means simplified deployment, adaptation, support and billing.
Why Lumen and Microsoft?
Not everyone can do network, security, global routing, analytics and integration – all in one package. Integrators offer a subset of the services but not the full package. Lumen is a one-stop shop. It makes good business sense to run a critical application like Teams on a reliable, global network like Lumen.
Learn more about Lumen Solutions for Microsoft Teams.
1Nemertes, Successfully Migrating to Microsoft Teams: Realizing Teams Benefits Requires an Orchestrated, Programmatic Approach, 2020.
This content is provided for informational purposes only and may require additional research and substantiation by the end user. In addition, the information is provided "as is" without any warranty or condition of any kind, either express or implied. Use of this information is at the end user's own risk. Lumen does not warrant that the information will meet the end user's requirements or that the implementation or usage of this information will result in the desired outcome of the end user. All third-party company and product or service names referenced in this article are for identification purposes only and do not imply endorsement or affiliation with Lumen. This document represents Lumen products and offerings as of the date of issue.
---
Trending Now
You may also like