Bridging the Calling Gap with Zoom Phone
Posted On December 13, 2021
---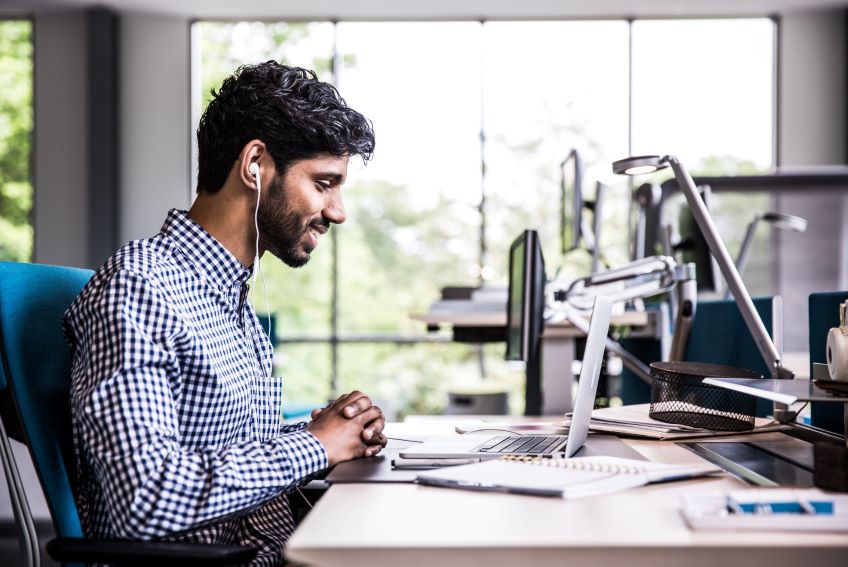 Before the pandemic, we mainly used email and instant messaging or picked up the phone to chat with a co-worker or to get information from a supply chain contact.
When a large percentage of the workforce went remote in 2020, organizations scrambled to keep lines of communication open. The main approach was to accelerate adoption of virtual meeting platforms like Zoom. And with no access to their physical desk sets in the office, employees shifted from using a physical desk set to a laptop or other smart end device as the primary communications device.
It was an awkward fix. If employees couldn't use unified communication and collaboration (UC&C) to communicate (because a customer didn't have it, for example, or they lacked necessary broadband) and didn't have a company cell phone, many used personal devices to "dial in" as an alternative. Because those devices were not company managed, employees lost features and functionality they were used to.
While many people are returning to the traditional workplace full-time, a lot of workers will continue working from home or split time between home and the office. They will still use virtual meeting platforms to spin up instant meetings, share screens on the fly and collaborate with a few clicks. But many employees will need PSTN-like calling, too, for years to come. How can organizations continue to support these different scenarios without breaking the bank? The answer is cloud calling.
What do we mean by "cloud calling"?
Cloud-based calling is built on top of unified communications platforms, like Zoom. With cloud calling, the call processing technology is moved out of the customer premises to the cloud, that is, rather than relying on customer-hosted PBXs, the phone system uses a cloud-hosted PBX instead.
Zoom delivered by Lumen's cloud calling product is Zoom Phone, which requires a subscription plan in addition to the base Zoom Meetings subscription. With Zoom Phone you get enterprise-grade calling in a multitenant environment, high scalability and predictable costs. Zoom Phone users can make and receive phone calls using a softphone built into the Zoom platform, a desktop client, a mobile app or a Zoom-certified IP-based physical desk set. Because it's all part of the same system, users can also move a call to a video meeting without anyone needing to hang up and dial in again.
And because Zoom Phone is centrally managed, it's easy for IT teams to provision users, monitor call quality and track usage from a single console.
Bridging the gap between desk sets and UC&C
Cloud calling bridges the gap between the need for physical desk sets and a full UC&C environment. For example, most people working from home don't have a PBX but use the phone frequently for work. Or maybe you're starting a new business or opening a new branch location that cannot be easily tied to the headquarters' phone system. With cloud calling, there is no need for a physical phone desk set; the "phone" goes with you wherever you are.
Sometimes it comes down to budget. A lot of Lumen customers bought TDM (ISDN-PRI) trunks to connect to the PSTN for voice services or are facing an end-of-life PBX and want to reduce their networking costs. Moving the organization or at least parts of it to the cloud makes sense, and Zoom Phone is a logical solution. Cloud calling leverages new technology offered in the cloud while supporting how we have historically communicated with traditional desktop phones.
Looking to the future
Today, with Zoom delivered by Lumen customers can call and receive calls from other users within Zoom Phone. To be able to call someone external to Zoom requires the cloud PBX to be tied to an external telecom service in order to interoperate with the PSTN. Lumen customers can bring their own carrier to make inbound and outbound calls, leverage Zoom calling plans or bundle with Lumen Voice Complete.
Today's new normal of multimedia, meetings-based collaboration is supplanting how we are used to communicating. But co-workers, customers and business associates still need to stay connected, wherever they're working from. Cloud calling is an ideal solution that fills the gap between the desk set and UC&C, enabling businesses to meet needs today and well into the future.
This content is provided for informational purposes only and may require additional research and substantiation by the end user. In addition, the information is provided "as is" without any warranty or condition of any kind, either express or implied. Use of this information is at the end user's own risk. Lumen does not warrant that the information will meet the end user's requirements or that the implementation or usage of this information will result in the desired outcome of the end user. All third-party company and product or service names referenced in this article are for identification purposes only and do not imply endorsement or affiliation with Lumen. This document represents Lumen's products and offerings as of the date of issue. Services not available everywhere. Business customers only. Lumen may change or cancel products and services or substitute similar products and services at its sole discretion without notice. ©2021 Lumen Technologies. All Rights Reserved.
---
Trending Now
You may also like