Expanding Lumen CDN in the Middle East with new node in Egypt
Posted On September 29, 2021
---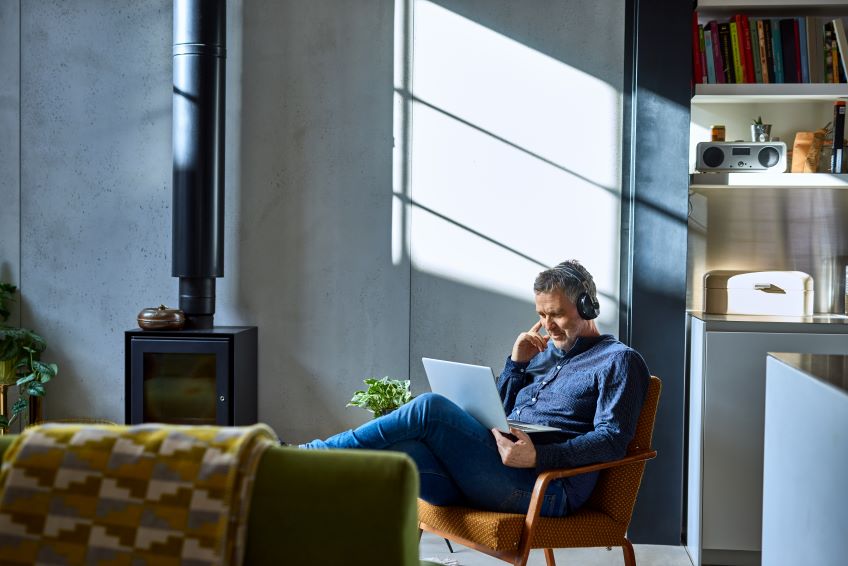 As internet traffic continues to grow in the Middle East and North Africa, increasing the reach of our content delivery solutions is critical in enabling customers to deliver the best possible user experience and enhance service performance in their target markets.
For the past several years, Lumen has strategically invested in both its geographic footprint and its overall delivery capabilities with new server locations, edge computing functions, as well as improvements to the underlying network.
Today, Lumen is expanding its CDN capacity with a new node in Egypt. This node has been established in collaboration with Telecom Egypt, the first integrated telecom operator in Egypt with extensive reach to 100% of the Egyptian eyeballs within the country in addition to regional reach to other carriers in Africa and the Middle East / Gulf.
The new node on the African continent solidifies Lumen's strategic server presence in Middle Eastern cities, as well as a particularly strong CDN footprint in Southern and Eastern Europe. It is designed to help further localize our content delivery offering and promote consistently high performance for both major international brands serving these growing markets and local players in the region.
The Lumen CDN 170 Tbps of global server capacity has the advantage of being architected into the global Lumen backbone. In the Middle East, Lumen has extensive subsea cable network coverage connecting the Mediterranean, Red and Arabian Seas to the Indian Ocean, promoting efficient data transport into and out of the Lumen CDN and IP networks across the region. This new node also benefits from direct connectivity into the vast Telecom Egypt network covering Africa, Asia, and the Middle East.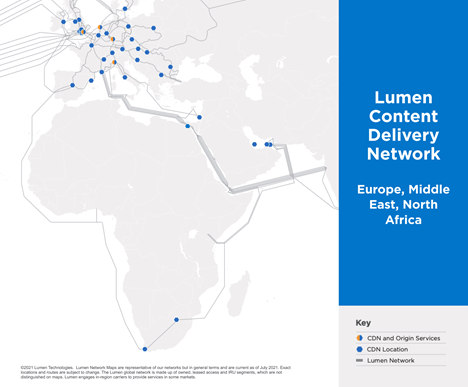 With the strength of our backbone and our extensive CDN reach, Lumen is confident that we can help media, gaming, ecommerce and other digital businesses deliver record amounts of data to audiences in this region and all over the world.
The major regional television networks, international gaming developers, and leading software companies that rely on the Lumen CDN can already benefit from this new node. "Working with Lumen, we have access to a wide range of PoPs and the connections that a large global company offers," said the Chief Technical Officer of ITWorksMe, a leading Lebanese publishing solutions provider (read our case study here.
Lumen will continue to expand our delivery capabilities in the months and years to come. This includes improvements to our network with throughput optimizations in the TCP stack, updated localization techniques, and support for low latency streaming. We are also actively rolling out our edge computing capabilities on Lumen CDN nodes around the world for companies that want to build directly onto the Lumen infrastructure.
To learn more about how to seamlessly deliver video, applications and more using the Lumen high-performance content delivery network, contact us at content-delivery@lumen.com.
This content is provided for informational purposes only and may require additional research and substantiation by the end user. In addition, the information is provided "as is" without any warranty or condition of any kind, either express or implied. Use of this information is at the end user's own risk. Lumen does not warrant that the information will meet the end user's requirements or that the implementation or usage of this information will result in the desired outcome of the end user. This document represents Lumen's products and offerings as of the date of issue. Services not available everywhere. Business customers only. Lumen may change or cancel products and services or substitute similar products and services at its sole discretion without notice. ©2021 Lumen Technologies. All Rights Reserved.
---
Trending Now
You may also like