Fishing for those big ideas: The digital transformative power remaking the finance industry
Posted On December 6, 2021
---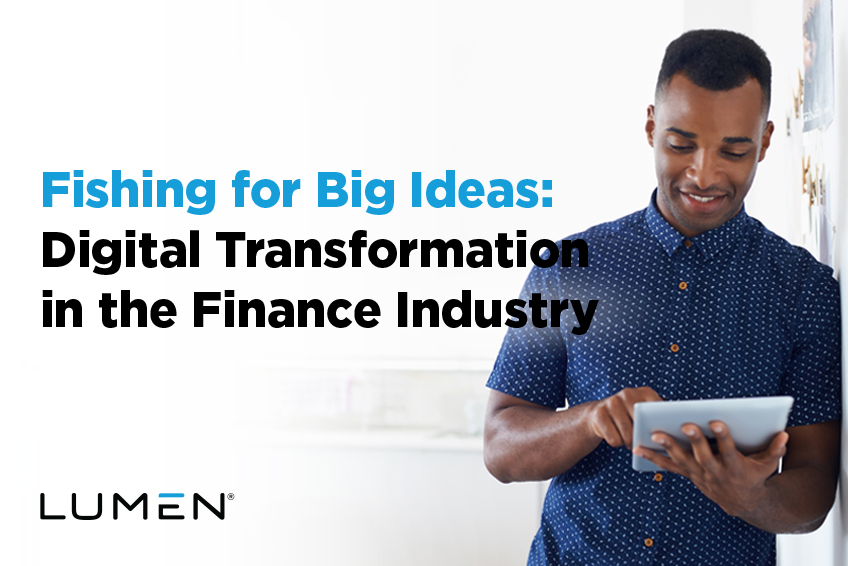 Our lives are completely intertwined with the financial services industry. From credit card payments to consumer loans to the apps we use to make small payments among friends, this industry is part of the fabric of our daily lives.  At a larger scale, the global capital markets provide financing for everything from startups to new factories to governments.
Understanding and enabling more of these everyday technology and business miracles is my job.  I lead Lumen's Financial Services vertical organization. It's a diverse range of global customers: investment banks, commercial and retail banks, money managers and the "fintech" sector- service providers who supply the data, information and other needs of this fast moving world.
My teams' customers are truly global companies with interests virtually everywhere. Lumen's global reach allows them to deliver services to customers from New York to London to Singapore.  Each of these segments have different challenges and competitive dynamics and my team focuses on learning the specific nuances.
An industry navigating many transitions
Retail banks are working on imagining the next stage of an industry that has existed for thousands of years.  The past two years of the pandemic have accelerated many existing trends and consumers have learned new habits.  What's the role of the physical bank branch as customers become increasingly comfortable online?  Consumer expectations will continue to evolve, while new platforms will increasingly allow them to service their own financial needs. How will peer to peer lending change consumer financing? Some banks are positioning their services as a "financial wellness" system that can cut across the many touchpoints consumers have with them, from the physical branch to an app in their pocket. All of these advancements  are enabled by a flexible and innovative architecture.
Technology has enabled capital markets firms to trade any security anywhere in the world almost instantaneously. These businesses require  connections to global liquidity pools and massively distributed edge infrastructure to process the enormous amounts of data they sift through for insights and an advantage.  Retail investors are able to trade anything from meme stocks to international bonds to bitcoin futures from an app on their phone.
The Three Fs
In many ways, my life is framed by my three passions: Family, Finance and Fishing. Our family vacations almost always find a way to incorporate some time fishing whether that's on a river somewhere or in the open seas.  On one trip to Mexico, we had trolled all day with nothing to show for it. Feeling discouraged, we started back to shore when we spotted a 140-pound striped marlin. It was the kind of fish you only dream about so we pivoted and after a hard fought battle we landed that remarkable fish. It was a big fish and a big idea, and one that I refer back to on all fishing trips because it was not what we expected after such a disappointing day, but it was what we needed. It was the art of the possible.
And just like fishing, I took the big ideas to every role I held since the beginning. The first job I ever loved was at Reuters, the international financial news and information service. I was amazed at the fast-paced market dynamics, highly intelligent partners and a sense that my actions had meaning which was important to me as I advanced in my career.
I eventually moved into the technology industry and felt a similar calling. Shortly thereafter, the financial world was soon discovering the need for greater agility and pushing the envelope for newer enabling technology. Now my job is to help the financial industry build their future with technology. The global challenges are enormous which makes the job meaningful and rewarding.
Finance and technology converge
My customers are doing two things simultaneously. They compete in a hypercompetitive, mission critical, technology-intensive industry.  This requires extensive IT infrastructure to execute trades globally or process home loans in a red hot real estate market, or – in the case of service providers – making sure their service is available globally 24/7. My teams work with them to help solve sophisticated and challenging IT problems today while helping them imagine the world tomorrow.
Sometimes, it is necessary to start with the big fish idea and work backwards. For instance, one of my customers is interested in how artificial intelligence (AI) can improve their operational efficiency. This is a big idea even though the full impact may still be a few years out. But how do you get there? What things can we be doing today to lay that foundation? We're working with them on leveraging machine learning to automate their network operations.   Essentially building a self-healing network that can autonomously detect problems and reconfigure itself with minimal human intervention. It's big ideas like this that challenge us to be better, not only for our customers, but for the industry that is looking toward technology for the answers.
What's your big idea for the future growth of your company?  Your big fish awaits. Let us help you get those lines in the water.
This content is provided for informational purposes only and may require additional research and substantiation by the end user. In addition, the information is provided "as is" without any warranty or condition of any kind, either express or implied. Use of this information is at the end user's own risk. Lumen does not warrant that the information will meet the end user's requirements or that the implementation or usage of this information will result in the desired outcome of the end user. All third-party company and product or service names referenced in this article are for identification purposes only and do not imply endorsement or affiliation with Lumen. This document represents Lumen's products and offerings as of the date of issue. Services not available everywhere. Business customers only. Lumen may change or cancel products and services or substitute similar products and services at its sole discretion without notice. ©2021 Lumen Technologies. All Rights Reserved.
---
Trending Now