Redefining Distribution for Entertainment- Grab Your Popcorn
Posted On December 8, 2021
---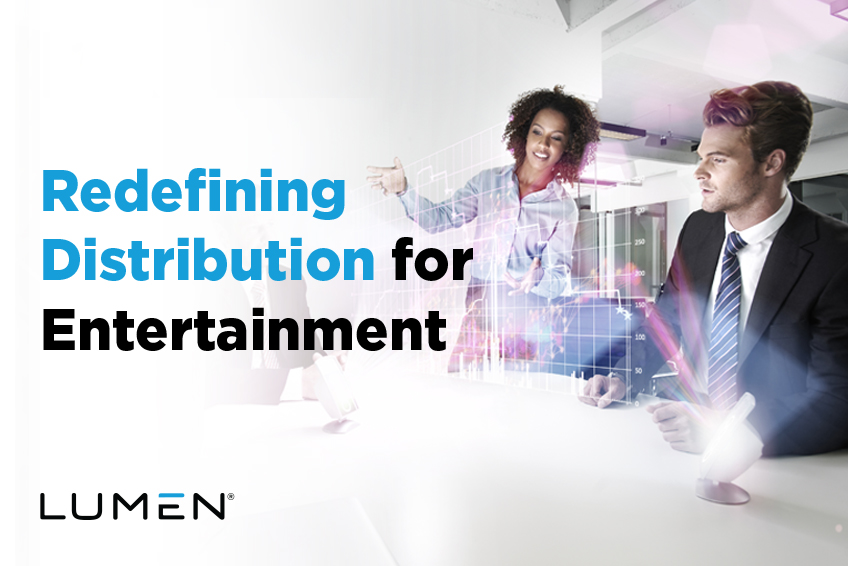 These are exciting times in the entertainment industry. Theaters are open, blockbuster movies are showing on the big screen and stadiums are packed with cheering fans. Live entertainment is back! Grab some popcorn, let's go to the movies. It's just like it was before the pandemic. Or is it?
The pandemic changed the way people consume and experience entertainment. While there will always be an avid audience at live performances, digital technology has permanently transformed the industry. Streaming, online gaming, virtual and augmented reality are the future of media and entertainment.
That's (streaming) entertainment!
The pandemic jumpstarted a revolution in the entertainment industry. Digital streaming exploded as people turned to online sources for entertainment. All the major production houses pivoted overnight to meet demand. Revenue from digital streaming services jumped 31% to $61.8 billion and the number of online video subscribers now tops 1.1 billion worldwide, a 26% increase over 2019. And it just keeps growing.
This goes beyond binging your favorite movies and television shows. Consumers are embracing a wider range of streaming content including international fare such as South Korea's "Squid Games." Livestreaming sports and major events are now attracting broader audiences at home and around the world. Virtual reality and augmented reality are taking online gaming and shopping at home to a whole new level.
None of this would be possible without a robust global content delivery network. In my last blog, I told you about how the Lumen fiber network expansions in Southern California provided a much-needed boost in bandwidth for expanding industry in the region and beyond. A scalable, reliable network that can handle steady increases in demand, as well as large spikes of usage during major events is more important now than ever. Today the Lumen platform provides core infrastructure for major media and entertainment companies as they adapt their business models to support new streaming services.
The content distribution transformation
Technology revolutionized the media and entertainment industry some time ago. Green screens, CGI and advanced 3D special effects made it possible for moviemakers to imagine far-flung worlds and bring the fantastic to life on the big screen. High bandwidth networks made online gaming a reality. And shoppers could order the latest fashion with the click of a button.
Today, technology is transforming the industry yet again and the Lumen platform is playing a starring role. Our scalable fiber network provides the backbone for innovation in production, distribution and content delivery worldwide.
Customers are using this technology to accomplish amazing things. Studios can share and transfer large files for postproduction crews working from home. Gaming companies are using edge computing to enhance the online gaming experience by reducing latency and bringing more capabilities closer to the consumer. The fashion industry is using virtual and augmented reality to offer online shoppers a way to "try on" clothing that allows them to experience not only how the article looks, but even how it will feel without ever leaving their bedroom.
It's not only the network that makes this happen. Lumen experts are available worldwide to architect and support the solutions our customers need. We also partner with leading technology companies who contribute their best-in-class solutions to help us build unique platforms for our customers. We then manage and support those platforms worldwide. In addition to the six account teams in SoCal, we have four teams nationwide dedicated to media and entertainment. We even support our global customers by tapping into additional resources wherever they need them.
Entertainment for the win
Professional sports play a big role in entertainment and Lumen is a player in this arena, too. With the Big Game coming in February 2022, Lumen is gearing up to make sure that fans viewing the game from home don't miss a second of the action on the field.
When we talk about live broadcasting major games or events, people often think about the satellite feeds. But the real magic happens over the terrestrial network which delivers the content at lightning speeds to consumers' devices. Vyvx provides broadcast service from LA's new Mega stadium in Inglewood along with all arenas and stadiums across the United States and Canada.  Fans will be able to cheer their favorite team from kickoff to the final seconds of the game.
Even as live entertainment returns, digital entertainment will continue to grow and expand.
According to a recent PWC report, consumer consumption habits learned during the pandemic will stick around. Livestreaming, online gaming and virtual reality are here to stay. The question is, where does it go from here?
I can't wait to see what new innovations await us on the horizon. If you're in the business, let's talk. I'll bring the popcorn.
This content is provided for informational purposes only and may require additional research and substantiation by the end user. In addition, the information is provided "as is" without any warranty or condition of any kind, either express or implied. Use of this information is at the end user's own risk. Lumen does not warrant that the information will meet the end user's requirements or that the implementation or usage of this information will result in the desired outcome of the end user. All third-party company and product or service names referenced in this article are for identification purposes only and do not imply endorsement or affiliation with Lumen. This document represents Lumen's products and offerings as of the date of issue. Services not available everywhere. Business customers only. Lumen may change or cancel products and services or substitute similar products and services at its sole discretion without notice. ©2021 Lumen Technologies. All Rights Reserved.
---
Trending Now
You may also like