Let's celebrate educators and help support their good work
Posted On January 12, 2023
---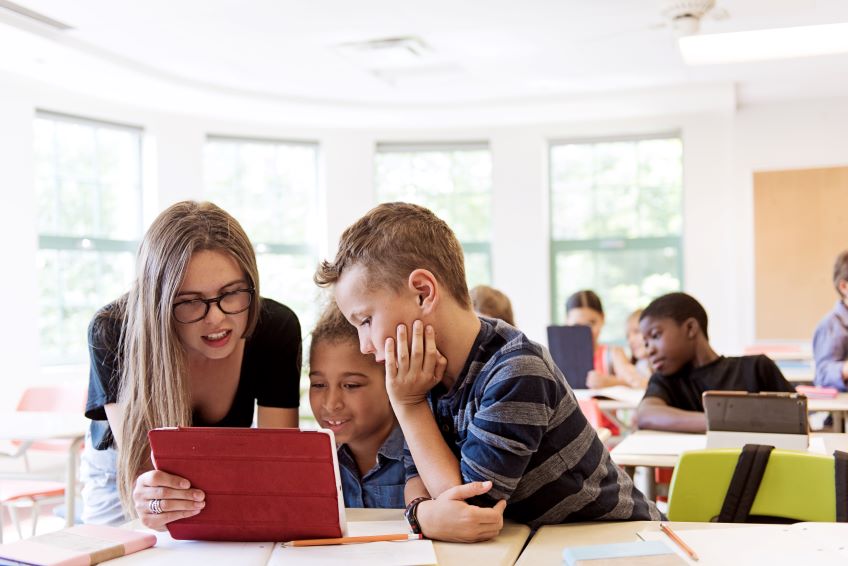 School districts around the nation are back from a well-earned mid-year break. For many, this marks the completion of the first full semester back in the classroom in two years. It's a good time to take stock of where we are and set a path for where we're going.
Simply achieving a more normal school year is an accomplishment built on everyone's hard work and dedication. Of course, we're only halfway through the year. 2023 is more than the heading on a "Class of…" section in a yearbook. It's a reality that comes with its own challenges and opportunities. It's worth reflecting on what we know to help see our way forward in the new year.
Challenges aplenty
While the pandemic itself does not shape day-to-day activities the way it did in recent years, its effects continue to ripple through the education system. In recent months, we got an unwelcome, but not entirely unexpected, report card on learning deficits. Significant declines in math and reading skills have occurred and schools are working to address those shortfalls.
Mental health concerns among students (and staff) were growing before the pandemic. Lockdowns, uncertainty and perhaps struggles with illness exacerbated those trends. Now, more than 70 percent of public schools report a rise in students seeking mental health support.
One challenge where the pandemic response brought new resources was bridging the digital divide. Pandemic relief funds administered through the Federal Communications Commission helped extend Internet to 14 million students. Unfortunately, even that accomplishment fell short of meeting the demand, and pandemic funds are drying up as the national conversation moves on.
All this came amidst other chronic problems such as underfunding, understaffing and a host of other issues educators know all too well. Yet, the people involved in education have always recognized the importance of their mission and found ways to persevere.
Where do we go from here? Forward.
Technology planning as a foundation for progress
When I think about these challenges, I'm reminded of the old adage: "How do you eat an elephant? One bite at a time."
Technology planning and execution is a tangible step to take in the face of daunting challenges. Will technology alone address all the challenges that exist? No. But, executing on a plan can provide a new foundation to build on and address the many challenges districts face. Because districts are not competitive, they can innovate independently and share results.
In 2023, we can gear technology toward addressing some of the key challenges such as:
Streamline Mental Health Care: Can mental health issues be addressed by better digital access, higher-speed networks, new software hosted at the edge and other building blocks? It's a fair question. But, with 13,574 districts around the nation it only takes one to make a breakthrough that can be adapted and refined by others. Recommendations include streamlining students' ability to report their needs, improving digital case management so all stakeholders can be informed, and connections to service providers that can be easily created and managed.
Increased use of digital resources: Teachers increased their use of digital resources, (textbooks and other curricula) during the pandemic and their use is expected to rise. According to Bayview Analytics, even as students returned to in-person learning there was no reversion to physical textbooks and materials. Entire curricula are being conceived as digital first.
Close the homework gap with new funding sources: One aspect of the digital divide is the homework gap that risks growing again. In the age of remote-only school, districts were making progress in enabling network access for students, either at home, a library or another third-party location. Equal access is a key challenge that can cause issues including student and parent anxiety. While pandemic funding is waning, the Affordable Connectivity Program (part of the 2021 infrastructure legislation passed by Congress) provides some additional optimism. Its goal is connecting more student homes to broadband and filling in those homework gaps. As the education system works to close the learning deficit, these funds provide resources to continue the good work that so many have worked so hard to achieve.
These are starting points for the next leg of the journey for America's schools. There will always be more to do, but these can be the first bites at the elephant.
You have ideas. You have goals. What do you want to achieve in 2023? Let's build the future together.
This content is provided for informational purposes only and may require additional research and substantiation by the end user. In addition, the information is provided "as is" without any warranty or condition of any kind, either express or implied. Use of this information is at the end user's own risk. Lumen does not warrant that the information will meet the end user's requirements or that the implementation or usage of this information will result in the desired outcome of the end user. All third-party company and product or service names referenced in this article are for identification purposes only and do not imply endorsement or affiliation with Lumen. This document represents Lumen products and offerings as of the date of issue.
---
Trending Now
You may also like