Elevating the Travel & Hospitality Customer Experience Through Edge Application Delivery Solutions
---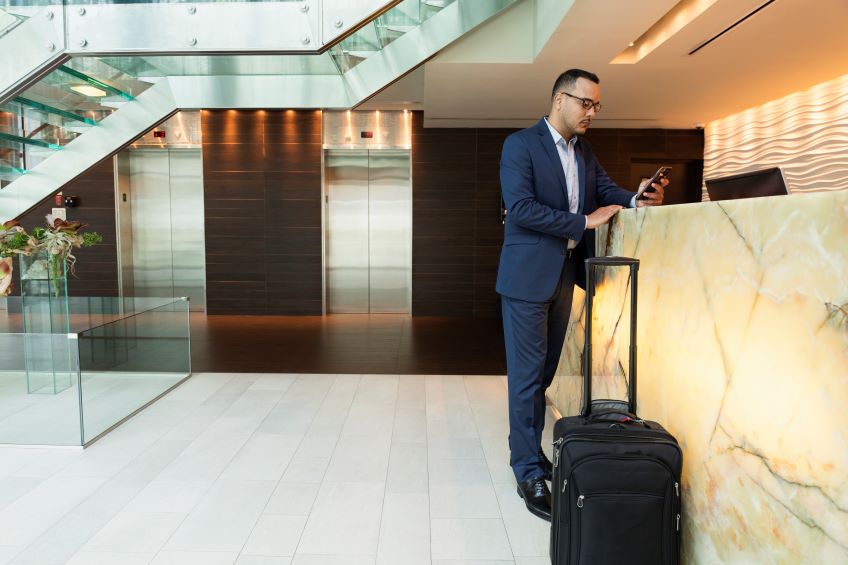 Although the travel and hospitality industries took a big hit during the COVID-19 pandemic, the return to normalcy will bring a surge of traffic and revenue back to them in the coming months. However, with so much demand on the horizon, two questions loom large for travel and hospitality companies:
How will they continue to differentiate themselves in a competitive marketplace?
How can they reduce costs and improve efficiency after the financial impact of the past year?
Consumers tend to have a good deal of brand loyalty when it comes their travel and hospitality choices, which makes the ability to provide them with a great customer experience – especially for a first interaction – a vital key to success. That usually starts with a great digital interaction on an application or website, but it's equally important to have seamless, convenient and enjoyable in-person experiences as well.
Adopting an edge computing strategy is a fundamental way for travel and hospitality providers like airlines, hotels and restaurants to offer modern amenities, easy booking/ordering processes, and secure digital transactions. This is often done through data collection and storage at edge locations, but Lumen also offers the opportunity to go a step further with edge application delivery, in which the actual application workloads such as hosting, security, content acceleration, and others are also moved from the cloud to edge locations.
This has the intrinsic benefit of achieving lower latency and faster performance because these workflows are taking place closer to end user locations rather than in private or public cloud datacenters. On top of that, deploying an edge application delivery strategy can also increase flexibility and improve the DevOps environment while helping companies reduce their CapEx and OpEx expenditures, thus setting themselves up for future growth.
Providing customer experiences that engender brand loyalty
It's no secret that the key to building loyalty among your customer base is by providing them with experiences and personal touches that make them feel valued and encourage them to come back for more. Hotels are perhaps the best example of this, and many already have rewards or loyalty programs in place to do just that.
But beyond just giving them a financial reason to return, edge computing solutions can help hotels provide their guests with added comfort by embedding personal touches into the guest experience. This can start with the booking and check-in processes and lead all the way to the guest entering their room for the first time.
Using facial recognition technology is one way that hotels can differentiate themselves among the competition. Not only can it be used by returning guests to expedite the check-in process, but it can also be used as a way to get into the rooms themselves, replacing the need for physical key cards that can be lost, stolen or unintentionally deactivated.
Once they enter the room, smart devices and appliances are one way that hotels can provide that home-away-from-home feel. By storing data about a guest's preferred room temperature, lighting, entertainment choices, and dietary preferences, a hotel can use smart devices to provide them with the precise level of comfort that they desire as soon as they walk into the room. This also has the added benefit of reducing energy expenses and creating more sustainable hospitality because the heating or air conditioning doesn't have to be turned on until the guest has arrived.
These kinds of customer-focused conveniences extend beyond just the hotel industry. Airlines can use customer data to make predictive choices for things like in-flight entertainment, seating preferences when booking the ticket, or dining suggestions within the airport based on the traveler's gate.
Restaurants can also deploy edge technology to provide better performance for their online ordering platforms, as well as more predictive food prep and delivery times based on data that they collect within the restaurant. If a customer orders a dish that will be longer to prepare due to an ingredient shortage or a malfunctioning fryer in the kitchen, they can be given a more realistic estimate for when their order will be ready, thus managing their expectations and preserving the customer experience.
Minimizing costs through improved efficiency
An edge application delivery strategy has the dual benefit of improving both the operational efficiency of your DevOps and architecture teams, as well as reducing the amount of money that you spend on data transit and egress charges because more data can be processed at the edge rather than sending it back to a central datacenter or cloud location.
This is incredibly important due to the amount of customer data that must be processed to provide these high-quality experiences; by minimizing the amount of back-and-forth that takes place between datacenter and edge, you can greatly reduce your OpEx spend. An edge deployment strategy also makes it much easier to scale with new services or functionality, as well as expand into new markets and geographic locations.
This improved efficiency can be greatly felt among DevOps and DevSecOps teams, who can use an edge application delivery architecture to create a more efficient DevOps environment in which developers can move faster and better collaborate across teams. Flexible deployment of edge solution modules for hosting, storage, content delivery, and security makes it easier to run testing initiatives, dependency management, etc.
Operational efficiency improvements can also be extended to areas like inventory and supply ordering in the case of restaurants, as edge devices can track the usage and make automatic reorders based on predictive algorithms. Or in the case of airlines, they can provide more accurate flight updates to their travelers through better data synchronization across applications.
Predictive maintenance is another area that all travel and hospitality companies can do via edge computing. Assets such as HVAC units, plumbing, kitchen equipment, and airplane hardware can be tracked and monitored to alert the operations crews of potential problems before they impact the customers.
Ensuring a safe and secure customer experience
Like other industries, travel and hospitality providers tend to collect large amounts of private financial information as well as personal identification data to conduct their transactions with customers, thus creating a huge risk of data breaches and malicious attacks. To combat this, a comprehensive security strategy that protects their customers without detracting from the overall experience is a must.
Edge application delivery solutions are well equipped to provide this type of protection through next-generation solutions like web application firewalls, bot managers, API protection, SSL certificate managers, geo-fencing solutions and Layer 7 DDoS mitigation that can be deployed directly on top of the underlying infrastructure.
Why Lumen for edge delivery
Lumen provides a modular approach to edge application delivery with a robust global network combined with an application ecosystem that allows you to choose from multiple best-of-breed providers for security, content acceleration, API caching, and more. DevOps and DevSecOps teams are also given the opportunity to build directly onto the Lumen network infrastructure with open-source modules, proprietary software and custom code.
This modular approach – plus a customizable managed service offering – gives our customers as much control over their edge application delivery strategy as they need, thereby enabling continuous improvements to the customer experience.
To learn more about how Lumen edge application delivery can help your business, reach out to edgeapplications@lumen.com.
This content is provided for informational purposes only and may require additional research and substantiation by the end user. In addition, the information is provided "as is" without any warranty or condition of any kind, either express or implied. Use of this information is at the end user's own risk. Lumen does not warrant that the information will meet the end user's requirements or that the implementation or usage of this information will result in the desired outcome of the end user. This document represents Lumen's products and offerings as of the date of issue. Services not available everywhere. Business customers only. Lumen may change or cancel products and services or substitute similar products and services at its sole discretion without notice. ©2021 Lumen Technologies. All Rights Reserved.
---
Trending Now
You may also like